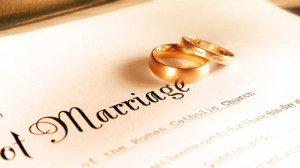 While the Supreme Court issued a landmark decision to legalize same-sex marriage in the U.S. making it possible for people of all sexual orientations to marry, many modern couples (of all genders and sexual orientation) still choose against marriage.
If you are thinking about whether or not to legally get married, be sure to consider these important factors:
Unmarried couples need financial and legal protections in place, to ensure you and your loved ones are taken care of if you become incapacitated or when you die.
Imagine this: your partner is hospitalized and you can't help make medical decisions or even get in to even see him or her because you aren't married; or your partner needs a family member to make important legal or financial decisions, but it can't be you because you aren't considered a relative without marriage. If you decide you don't want to get married, call us right away to get the legal documentation you'll need to validate and protect your rights.
Do you and your partner own property together? Have you considered what would happen if you and your partner don't own your home with right of survivorship or if your partner is on the lease or the owner of the home and he or she becomes incapacitated or dies? In the midst of grieving your loss, you could also lose your home! But you don't have to! Legal documents can remedy this.
While legally married partners need many of the same financial and legal protections in place, the law does provide some defaults that will provide protection and access to a "legal" spouse that are not given to an unmarried partner. While these default provisions are insufficient and probably not what you'd really want, it's better than nothing at all. Unmarried partners don't even get those basic default provisions. You could actually lose not only your home, but your "joint" furnishings, appliances and other belongings.
Here's the bottom line: if you are committed to your partner, and want your partner to make legal and financial decisions for you and to have access to some or all of your assets in the event of your incapacity or at the time of your death, whether you are a married couple or unmarried couple, you need legal and financial planning that ensures your partner has easy access to everything you choose.
We can help protect you. That's what we do for you and your family. We provide strategy, protections and solutions for our clients!
If you're ready to ensure your loved ones have the legal benefits and financial protections they deserve, consider sitting down with us. As your Personal Family Lawyer®, we can help you with your legal planning needs. Our Family Wealth Planning Session guides you to protect and preserve what matters most. Before the session, we'll send you a Family Wealth Inventory and Assessment to complete that will help you get financially organized. We've even had a client tell us she found money that she forgot she had just by going through our process.
This article is a service of Susan Hunt, Personal Family Lawyer®. We don't just draft documents, we ensure you make informed and empowered decisions about life and death, for yourself and the people you love. That's why we offer a Family Wealth Planning Session™, during which you will get more financially organized than you've ever been before, and make all the best choices for the people you love. You can begin by calling our office today to schedule a Family Wealth Planning Session and mention this article to find out how to get this $750 session at no charge.