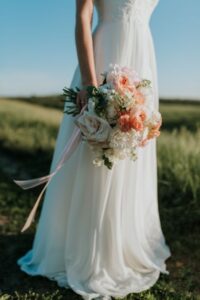 As we head into the peak of wedding season, if you are a newlywed or are about to tie the knot, add "estate planning" to your do list. I know, planning for your potential incapacity and eventual death is probably the farthest thing from your mind right now, but getting it handled as part of your wedding planning is the greatest gift you can give your soon-to-be spouse. Of course, once your marriage is official, your relationship becomes entirely different from both a legal and financial perspective. If you've recently said "I do" or have plans to do so in the near future, here are 6 Estate Planning essentials for newlyweds.
First, be aware of the impact of doing nothing. If you were to become hospitalized for any reason prior to your marriage day, the person you love most in the world would not have the legal authority to make your medical decisions and may not even have the legal authority to see you in the hospital. Your beloved would have no access to your bank accounts and could even be put into a position of having to move out of your shared home abruptly in the event of your death.
If the idea of these potential realities is terrifying to you, call us today to get a "pre-marriage" plan in place, and then, after your marriage, we can update it.
Beneficiary Designations
One of the easiest—and often overlooked—estate planning tasks for newlyweds is updating your beneficiary designations. Some of your most valuable assets, such as life insurance policies, 401(k)s, and IRAs, often transfer best with beneficiary designations that allow you to name the person (or persons) you'd like to inherit the asset upon your death. You should have a primary and contingent/alternate beneficiary named. If you have minor children, you should never name them as a direct beneficiary. Otherwise, those assets would be distributed to a court-appointed financial guardian, who will be in charge of managing the funds until the child turns 18, at which point all benefits are distributed to the beneficiary outright. If you want your child to inherit your life insurance or retirement account, you should set up a trust to receive those assets instead.
A Last Will and Testament
A last will and testament allows you to designate who should receive your assets upon your death. If you die without a will, known as dying "intestate", your spouse is not necessarily entitled to inherit all of your assets and may have to split your assets with your children or even your parents. It's always a good idea to create a will (or update your old one) when you get married. To ensure that your will is created and executed properly, you should always work with trusted attorneys like us, and never rely on generic, fill-in-the-blank documents you find online.

Online legal document services may be better than nothing for some people, but they may actually be worse than nothing for many. So many things can go wrong! For instance, an online document service cannot talk you through all the potential issues related to your family dynamics and assets that can arise and lead to conflicts and disputes between your loved ones.
A Revocable Living Trust
Upon your death, assets included in a will must first pass through the court process known as probate before they can be transferred to your spouse or any other beneficiary. Probate can take months or even years to complete, and it can even sometimes lead to ugly conflicts between your spouse and other family members. And it can get expensive!

To avoid the time, cost, and conflict inherent to an estate plan consisting solely of a will, you should consider creating a revocable living trust, along with your will. If your assets are properly titled in the name of your living trust, they would pass directly to your spouse or loved ones upon your incapacity or death, without the need for any court intervention.
If you or your new spouse have minor children from a previous marriage, there is an inherent risk of conflict between your new spouse and your children about what happens to your assets upon your death or incapacity. We have very specific strategies we can use to help avoid family conflict in blended families.
Durable Financial Power of Attorney
Estate planning is not just about planning for what happens when you die. It is equally important—if not even more so—to plan for your potential incapacity due to a serious accident or illness. If you become incapacitated without a durable financial power of attorney naming someone to handle your financial and legal interests, your spouse or other family members would have to petition the court to be appointed as your guardian to handle your affairs. Though your spouse would typically be given priority, this is not always the case, and the court could choose someone else that you would never want having control over your life. As we noted in prior blog posts, it could even be a crooked professional guardian, who would charge exorbitant fees, keep you isolated from your family, and sell off your assets for their own benefit.
If you want to choose who has the ability to make these decisions, you should create a power of attorney. A durable financial power of attorney gives someone the immediate authority to manage your financial, legal, and business affairs in the event of your incapacity.
Health Care Directives
In addition to the durable financial power of attorney, you will also need to create health care directives. A health care power of attorney would give your spouse (or someone else) the immediate legal authority to make decisions about your health care and medical treatment should you become incapacitated and unable to make those decisions for yourself.
Without a health care power of attorney, your spouse would have to petition the court to become your legal guardian.

A living will is an advance directive that explains how you would want your end-of-life medical care handled. You can direct if and when you would want life support should you ever require it and whether you would want artificial hydration and nutrition supplied.
Name Legal Guardians For Your Minor Children
If either you or your spouse has minor children from a prior relationship, or if you are planning to have kids of your own soon, you need to appoint in your Will who you want to serve as guardians to raise your children upon your death. You must name guardians in a legal document, or you risk creating needless conflict and a long, expensive court process for your loved ones.
One of the best tools we use to help families with minor children is our comprehensive system called the Kids Protection Plan®. This provides you with all of the legal planning tools needed to make sure there is never a question about who will take care of your kids if you and your spouse are in an accident or suffer some other life-threatening emergency.
A Trusted Advisor For Your New Family
Getting married is an exciting first step for your new family, and you should start things off right by getting your estate plan properly prepared. But here is the thing about estate planning—it is not just about creating a set of documents and then filing them away in a drawer and never looking at them again until something happens.

Like your family, your planning needs are constantly evolving, so you must ensure your plan is regularly updated as your assets, family situation, and the laws change. If you do not keep your plan updated, it will be totally worthless when your family needs it. In fact, failing to regularly update your plan can create problems that leave your family worse off than if you had never created a plan at all.
As your Personal Family Lawyer®, we have built-in systems and processes to ensure your plan is regularly reviewed and updated, so you do not need to worry about whether you have overlooked. What's more, our planning services go far beyond simply creating documents and then never seeing you again. We will develop a relationship with you and your family. This is so we can get to know you, your wishes, and be there for you throughout the many stages of life—and above all, be there for your loved ones if and when you cannot be. Contact us, your Personal Family Lawyer® today to get things started with a Family Wealth Planning Session™.