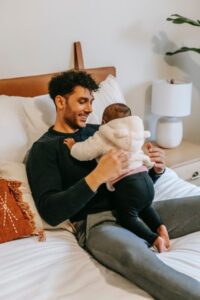 Identify Support for Single Parents
For single parents, having backup support to care for your kids, in case you become ill or in the event of your death, is critical. While we discussed naming legal guardians for your children in our previous article, now is the time to identify support and consider who in your life would you be able to call on for immediate help if you need it.

Make a list of potential immediate supporters for you and your kids and then have a proactive conversation with them now. No one likes surprises, so be sure they are willing and available to support you and/or your children if called upon in an emergency.

We offer a free resource to name temporary guardians for your children in the event of an emergency.  This enables your selected individuals to have legal authority to stay with your kids and make medical decisions for them. If you are too sick to care for your children, this document provides the legal authority to leave your children in the care of the people you've identified.  This ensures your kids wouldn't have to be in the care of strangers or "the system" while the authorities figure out what to do.
Prepare for the Worst-Case Scenario
While most adults don't experience severe complications from the coronavirus, there's always the chance that you could be among those who do. Should the absolute worst happen and you end up passing away from the illness, it's critical that you prepare for the worst-case scenario and be sure your estate plan is completely up-to-date with the latest documents, beneficiaries, and administrators.
Ensure your will distributes your assets properly: As single parents of minor kids, you'll likely want most, if not all, of your assets to pass to your children in the event of your death.  If you've named them as beneficiaries on accounts or left everything to them in your Will, they wouldn't be able to access those assets until they reach the age of majority. Until then, the court would appoint a guardian to manage the money for your children.  That may not be the person you truly want to manage things for your kids. 

To avoid this, if you only have a will, you should ensure that your will establishes a testamentary trust for the benefit of your kids, with a financial guardian named by you to care for the assets, until your children reach the age you choose for them to receive their inheritance.
But using a will alone is not the ideal option for protecting and transferring your assets to your kids. You may want to consider creating a trust to ensure your children's inheritance passes to them in the most advantageous way possible.
Protect and Control
Using a revocable living trust to pass your children's inheritance to them offers a number of important advantages over a will. For one, assets included in a will must first pass through the court process known as probate before they can be transferred to the intended beneficiaries. This means that the guardian you've named to care for your kids would have to first go through the probate process before they could get access to any of your assets for your children's care.
Probate can take a year or longer to complete. It can also be expensive and confusing. If your assets are held in a properly drafted and funded trust, the person you name as financial guardian or "trustee" could access those assets much faster and more easily.
The trustee you name could be the person you've named as your kids' legal guardian, or it could be a different individual, who could oversee the management of your children's inheritance, freeing the guardian from the responsibility of caring for your kids and worrying about managing their money at the same time. Alternatively, you could make the guardian and another individual co-trustees, so there would be two individuals overseeing the assets for increased accountability.
Another advantage a trust has over a will is the level of control they offer you when it comes to distributing assets to your kids. By using a trust, you can specify when and how your kids will receive your assets. The money can be used for their health, education, maintenance and support and you can decide when and if your kids can freely choose to manage the assets on their own. You might spread out distribution of assets over their lifetime, releasing a percentage of the assets at different ages or life stages.
In this way, you can help prevent your kids from blowing through their inheritance all at once, and offer incentives for them to demonstrate responsible behavior. As long as the assets are held in trust, they're protected from the beneficiaries' creditors, lawsuits, and divorce, which is something else wills don't provide.
Wills also don't cover assets that pass by beneficiary designation on financial accounts and life insurance policies. You can name the Trust as a beneficiary instead, thereby protecting those assets for your children.
Create an Inventory of Your Assets
In addition to the above documents, it's essential that single parents create an inventory of assets. Maintaining a regularly updated inventory of all your assets is one of the most vital parts of keeping your plan current. The inventory enables your loved ones to know what you have and how to find everything should something happen to you, so none of your assets end up in our state's Department of Unclaimed Property. This task is so important, we actually help you with this process as part of your plan.
Minimize Your Risk With Planning
While the pandemic has been an extremely trying time, it seems we're finally rounding the corner in containing the virus and getting our lives back to normal. Although it's impossible to totally prevent you or your loved ones from getting seriously ill, by putting the type of proactive planning measures described here in place, you can significantly minimize the level of stress, suffering, and conflict that can result if you do become sick.