We're officially in the throes of winter: the days have grown shorter and the cold has booked an extended stay. These are the months of leafless trees shivering against too-often grey skies; of scarves, boots, and thick jackets; of watching the sun set from office windows. As the cold and dark often drives us inside, it's also a season of cozy nights with family and close friends, good food, and ample hot chocolate.
For those who have experienced the loss of a loved one, their absence can be particularly acute on these long, cold nights. Empty chairs during the holidays, silent houses in the evenings, a missing warmth or merriment – the winter season is primed to open grief anew. So let's talk grief: with winter in full swing, it's a critical time to normalize grief and increase understanding, both for those who are grieving and those who want to support them.
An Uncomfortable Topic
Grief and death tend to be uncomfortable topics that many avoid – it is not easy to think about losing a loved one, nor discussing that loss afterwards. Unfortunately, avoiding the topic only serves to further isolate grievers and leaves their support network feeling awkward and unsure. To reshape our relationship with grief, we first must increase our knowledge of it. Thankfully, the experience is universal – most of us will experience it at some points in our lives – and there are ample resources available.
Grief Resources
One such resource is What's Your Grief, a website dedicated to grief support. Co-founder Lita Williams' article "64 Things I Wish Someone Had Told Me About Grief" is a perfect illustration of both the issue and the solution: how we dismiss discussing grief with blissful ignorance and what we lose by doing so.
"You can plan for death, but death does not always comply with our wishes or plans," she writes, advising, "there will be pressure from others to move on, even minutes or hours after a death, and this can lead to regrets." Tackling even the practical and day-to-day, Williams adds, "People will bring you food because they don't know what else to do. Don't feel bad throwing it away." The list is a quick and simple deep-dive into the many angles of grief, and highlights one of its most critical aspects: everyone experiences grief differently.
Grief's Many Angles
Part of what makes grief so difficult is that there's just no way to know what to expect. This can lead to many forms of grief being dismissed or invalidated. To have a healthy relationship with loss, it is critical to recognize and respect the many shapes grief may take. For some, grief may mean tears and depressed stupor, while others may find themselves imbued with manic energy or even anger. Be sure to give yourself and others the space, however the grief may manifest; discounting someone's process (or your own!) will only hinder the healing.
Language Matters
"Everyone grieves in their own unique way; there is no "right way" to grieve," writes The Wendt Center for Loss and Healing. "Grieving is not a sign of weakness or failure. It is not something to ignore or 'get over'." Here, language matters. What you tell yourself or others experiencing grief makes a world of difference. A recent Instagram post by @dailytherapydose highlighted what not to say to those grieving. Phrases such as "let's try not to think about them right now" and "next year will be better" were at the top of the list.
There is no checklist of what to say to someone experiencing grief – as What's Your Grief reiterates, what is right for one person isn't for another. Instead, they interviewed people to learn what was the best thing someone told them while they were grieving. Phrases that supported, offered, and consoled without demanding anything from the griever appeared again and again, such as, "I cannot possibly understand how you feel. But I'm here."
Like The Ocean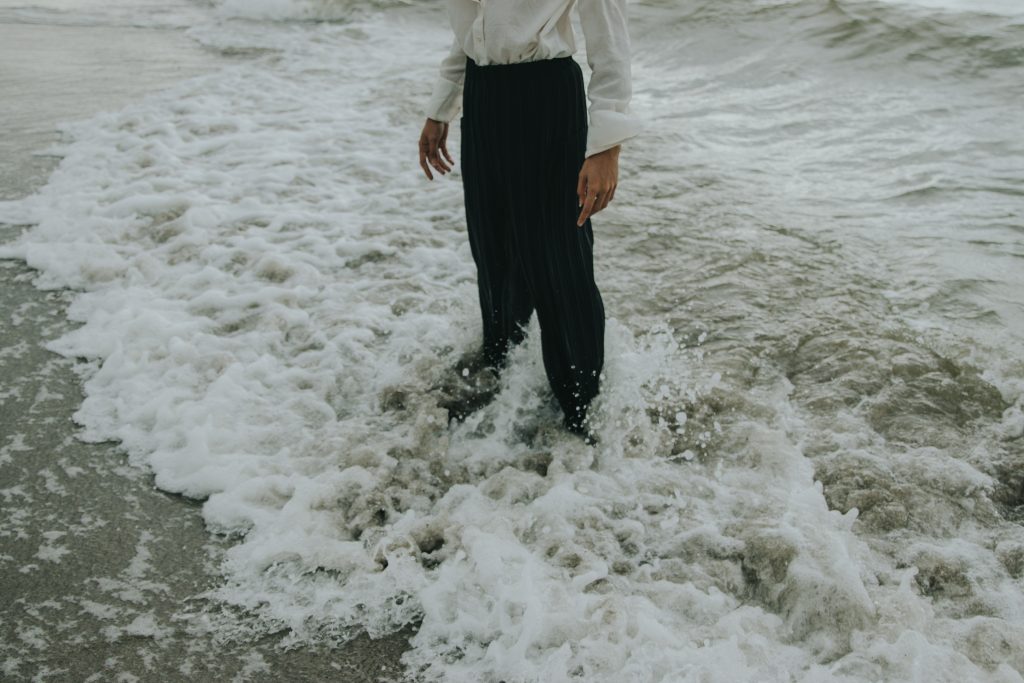 Grief is both universal and unique, enormous and subtle. While grief is not something we can reasonably embrace, we can at least approach it with acknowledgement instead of avoidance, and learn what we can in preparation. In the words of Vicki Harrison, "Grief is like the ocean; it comes on waves ebbing and flowing. Sometimes the water is calm, and sometimes it is overwhelming. All we can do is learn to swim."