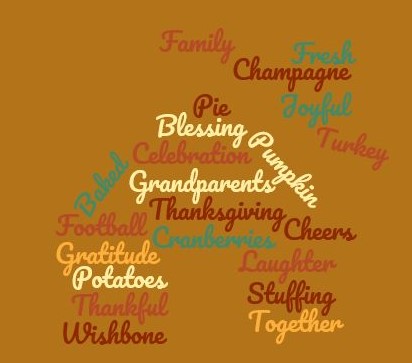 Easy as Pumpkin pie
Everyone has Thanksgiving traditions – Thanksgiving Day Parade, football, pumpkin pie, Black Friday Shopping (and in our house, the Black Friday House Concert). Families are gathering together to share good food and to spend time with one another. This is the perfect opportunity to discuss estate planning and really should be added to your "must-do" activities for the weekend! Now, Estate planning is not 'one size fits all.' Pets, kids, charities…there is a way to plan properly for all of them. Here are a couple tips to make the discussion as easy as pumpkin pie.
First, I don't recommend questioning your parents or siblings over the turkey about who they left their money to or whether or not they have a living will. But it's a good thing to check in to be sure your loved ones have a plan for the future in the case of death or incapacitation.
Schedule Time
Schedule time to gather your family together and strike up a conversation about how estate planning is important for everyone. Maybe start with the fact that you've just completed your planning and talk about how helpful the process was and the peace of mind you have now. Planning is especially important for parents with young children, or your family members who have charitable intentions, or those who LOVE their pets, like ME!
Turkey Talk
Conversations do not (and probably should not) be about who you are naming as your heir in your plan. That could be a little awkward, but it is a good idea to talk privately with those whom will be remembered in your Will. Good Turkey Talk does include sharing the advice that estate plans should be reviewed at least every three years, if not more, and always after a major life event like a birth, death, marriage, divorce, or moving to a new State.
Benefits of Estate Planning
There are many benefits of estate planning. Your plan can and should be tailored to meet your unique needs and goals. A good estate planning attorney will help you figure out those needs and goals. In fact, that's the attorney's job!
Convince others to start their estate planning ASAP so that they don't pass the burden to family members to figure out what to do with their stuff, how to access important accounts/information, and slog through the tedious probate process. Failure to plan can create chaos and cause family members to fight in Court over the estate.
Just like Thanksgiving traditions create a lasting memory, estate planning is your opportunity to leave a lasting legacy. After all, no one wants to be remembered for causing conflict in the family!
Offer to Help
The thought of doing planning sometimes sounds intimidating to folks. You can offer to help by recommending an experienced estate planning attorney they can trust.
Pass Along Something
Want to pass along something beyond just words? You can also share this Estate Planning Questionnaire. This will help them begin to get organized around the process of planning. Let them know that they can contact Susan Hunt Law for more information and for a complimentary consultation.